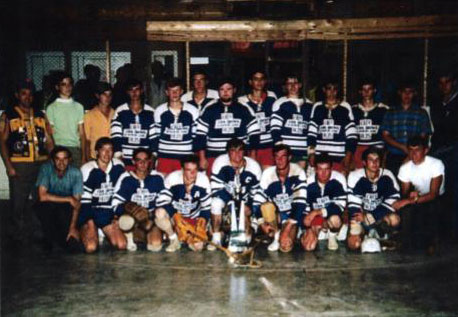 1969 Sunderland Saints
The first area lacrosse team to be inducted into the Lindsay & District Sports Hall of Fame, the Sunderland Saints' story is one of phenomenal accomplishment. In 1969, a group of local athletes from the Brock and Mariposa Township areas came together under the leadership of coaches Chuck Thompson and Dale St. John and manager Rev. Newton Reed and quickly developed into one of the finest lacrosse squads in the province. The Saints' season in the Metropolitan Toronto league prepared them for the challenge of provincial playoffs, where they defeated perennial contenders Lakefield, and then Six Nations of Brantford to win the region's only All-Ontario lacrosse championship. The "Cinderella team" distinguished itself and provided the Sunderland area with memories that will last forever.
Front row, l to r: Newton Reed (manager), Brian St. John, Ron Young, Phil Alger, Rick MacLeish (captain), Ron Short, Joe Real, Murray Henderson, Chuck Thompson (head coach).
Back row: Don Brooks (Lions Club), Robert St. John, Robert Fair, Leonard Woodward, Jim Innes, Wayne Shier, Dean Wilson, Peter Doble, John Brown, Allan Henderson, John Baker, Ken Fair, Dale St. John (assistant coach & trainer).
Dan West
A true ambassador and entrepreneur for his sport, Oakwood native Dan West has enjoyed on-ice success as well as great achievements as a coach and manager. The respect and admiration earned by his contributions to the game of hockey across Canada are true testament to his character and accomplishments. Dan played six seasons of junior hockey in Ontario and Prince Edward Island and was a member of the Royal Bank national Junior A champions from Summerside in 1997. His playing career led to many years of success as a coach and a mentor at all levels of the game – from minor hockey to junior. The current coach of the Junior A Lindsay Muskies has received local, provincial and national honours for his contributions to the game and as a positive influence on many generations – past, present and future.
Sherry Trumbull
Widely respected as one of the top women's rugby officials in the world, the Oakwood native has achieved international recognition for her skills and athleticism. An all-round athlete, Sherry was on a women's rugby provincial championship squad at Lindsay Collegiate. Success continued on the pitch as captain of the varsity team at Brock University. Following a Canadian championship as a member of the Ontario team, she began her officiating career in British Columbia. Her expertise and knowledge of the game led to worldwide recognition. She has officiated at the highest national and international levels, including World Cups, European and Six Nations championships, as well as the 2015 Pan Am Games. Tremendous commitment, focus and perseverance have allowed her to rise to the top of rugby ranks.
Dr. Norman O'Reilly
One of the most respected and accomplished sports marketing professionals in North America, Norman O'Reilly is honoured for his athletic and academic achievements. A pioneer in the sport of triathlon, he has competed in hundreds of national and international competition, medaling more than 50 times in his athletic career. A respected university professor in Canada and the United States, as well as a recognized author, he is considered one of the foremost academic authorities on sports in Canada. Honoured by numerous professional organizations for his knowledge, achievements and capabilities, including the American Marketing Association. A member of the Canadian Olympic mission staff, his commitment and passion are inspirations to future generations of athletes and supporters of sport in this country.