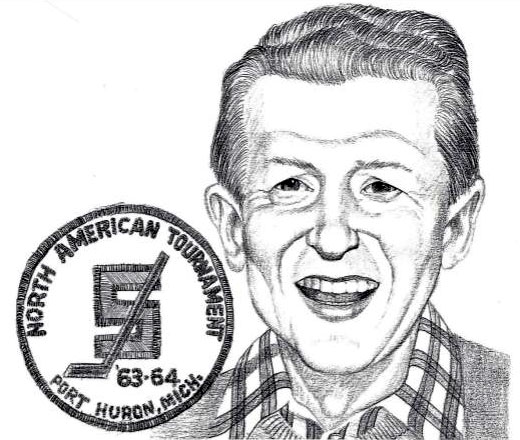 Gordon Abercrombie (1927-1989)
Known affectionately as "Guffer" to all, Gord Abercrombie was synonymous with all that minor hockey stood for in Lindsay for more than two decades. More than a generation of Lindsay hockey players benefited from being coach by Guffer at one time or another in the 1950s,  60s and 70s. His teams captured many minor hockey titles and tournaments across Ontario and beyond, including Silver Stick championships in Port Huron (Michigan), Sarnia, Orillia, Trenton and Dundas. One of his most celebrated accomplishments was coaching the Lindsay Kinsmen Peewee hockey club to the Goderich Young Canada Week championship in 1963. Stressing the value of effort and teamwork, he kindled the competitive spirits of his players and left them with qualities to serve them throughout their lives. The Lindsay Minor Hockey Association awards the Guffer Abercrombie Trophy to the top coach of the year.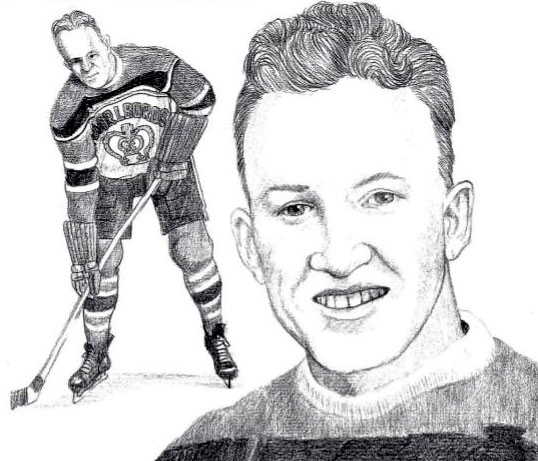 Randy Ellis (b. 1923)
One of the best Lindsay hockey players ever, Randy Ellis left his mark on the game in three different countries. From a hockey-playing family, he played junior and intermediate in Lindsay in the 1930s, then was signed by the junior A Toronto Marlboros in 1942. Considered the best centreman of his time in Britain, he led the 1949 Scottish National League scoring with 75 goals and 97 assists. He scored the winning goal in a Scottish national team victory over the 1948 Olympic gold medal Canadian squad. In the early 1950s he played for the Chicago Black Hawks' Eastern Hockey League farm team in Grand Rapids, Michigan. He was a league all-star known for speed and deft stick-handling. The father of Stanley Cup winner Ron Ellis, Randy is an honouree of the Canadian Oldtimers Hockey Association. His induction marks the first father-and-son pair selected to the Lindsay & District Hall.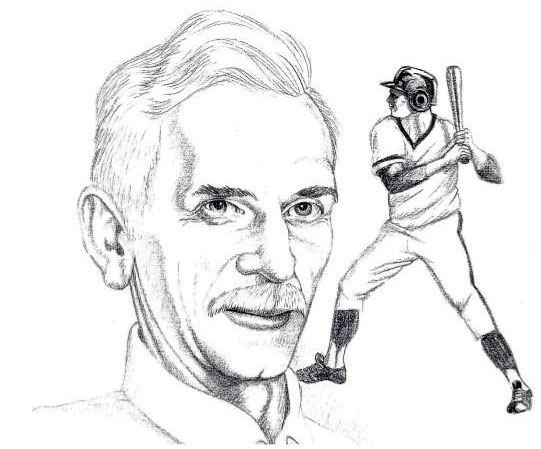 Paul Morasse (1920 – 1994)
A Lindsay resident for 35 years, Paul Morasse's lifelong love affair with the game of baseball saw him play, coach and instruct for more than six decades. His achievements earned him honours at many high-caliber levels, and his list of accomplishments is considerable. Born in Montreal but raised in Brooklyn, New York, Paul returned to Canada as a teenager and played for many southwestern Ontario clubs. He was a member of the 1939 Ontario Baseball Association Junior B champions from Dresden, and pitched the Wallaceburg Intermediate B team to the OBA championship in 1949 and 1950. Upon moving to Lindsay in 1959, he helped form the Lindsay Softball Association, and coached the Lindsay Junior boy's fastball team to the 1969 Ontario semifinals. He coached through the 1960s, 70s and 80s. A mainstay at local ballparks, his love of the game was passed on to many local players who he generously and unselfishly assisted with advice and encouragement – byproducts of his lifetime accumulation of experience and knowledge.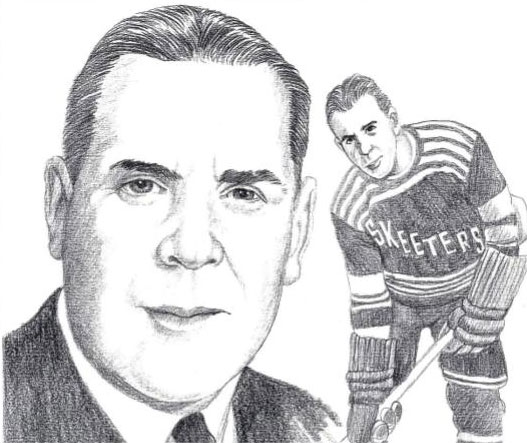 Percy Nichols (1916 – 2004)
Perhaps the most well-known and accomplished hockey player from Bobcaygeon, Percy Nichols has been a lifelong local resident. As a youngster, he garnered a great deal of notoriety for his on-ice skills, and with his brother Ernie and cousin Irvin, formed the famous "Nichols Line" of the 1930s. He turned professional in 1938, signing with the Baltimore Orioles of the American Hockey League. He led the Peterborough Petes to the 1940 Eastern Canada intermediate A championship. In 1941 he played for the New Jersey Skeeters, then the 1942 Kingston Frontenacs. He also played for the championship Debert, Nova Scotia squad. Following overseas World War II duty, he played OHA Senior A for Peterborough, and for Vancouver, Pacific Coast Hockey League champion in 1948. Following his playing days, Percy coached in Bobcaygeon for two decades, including an OMHA champion midget club in the 1960s. More than a sportsmen, for 25 years he sat on Bobcaygeon municipal council, as a councillor, deputy-reeve and reeve.