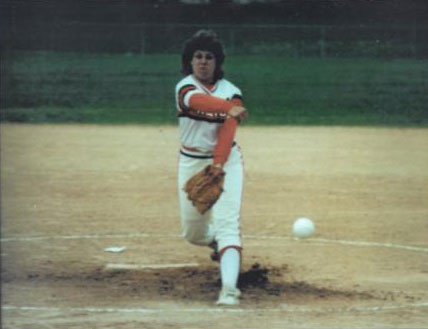 Joanne Graham
The most accomplished female softball player to have come from Lindsay, Joanne Graham set numerous records and achieved countless Canadian national and American college accolades. After developmental years with local minor teams, her rise to the top of Canadian softball began by playing on the national midget champions in 1983. She continued to rack up notable achievements while playing junior and senior-level in Canada. She received a four-year scholarship to Sam Houston State University (Texas) in 1984. She set batting and pitching records at SHSU and was an NCAA All-American twice. She has continued to contribute to the sports scene in her home town. An educator and coach in the elementary school system, Joanne also runs annual summer softball camps for youth, as well as working with junior golfers.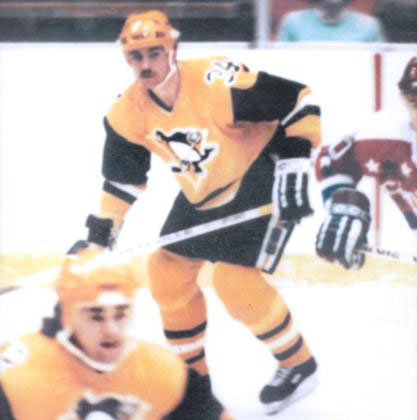 Tom Thornbury
Few hockey players in North America have had as varied and far-reaching a career as Woodville's Tom Thornbury. Drafted out of the Ontario Hockey League by the Pittsburgh Penguins in 1981 (3rd round), Tom went on to play in the National Hockey League and the American and International leagues in the 1980s before representing his country on the 1986-87 Canadian Olympic squad, followed by 10 years of play in Germany for the Koln Sharks. He coached in Germany in the 1990s before serving as player/assistant coach with Oklahoma o f the CHL. Tom continued his lifetime involvement in hockey by coaching with the Lindsay Muskies and Port Perry MoJacks in the 1990s. His community involvement includes volunteer work with Woodville's Lions Club and minor hockey association.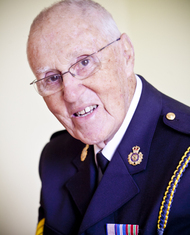 Vincent Jones (June 20,1928 – October 5th, 2014)

A true pioneer of the local sports scene, Vince Jones founded the Lindsay Rugby Club in 1978, following the establishment of similar clubs in several other areas in Ontario. Over the years, he has been responsible for the growth of the sport at all age and talent levels in the community. Today, Lindsay and area boasts one of the most comprehensive and strong rugby programs in Ontario. Success has been achieved with a constant approach of stressing a sense of family in the rugby clubs he works with. His players, from various levels, have achieved provincial and national recognition. Recognized for his hard work, dedication and achievements with a long list of awards and commendations, the Fenelon Falls resident received the 2002 Queen's Medal for his commitment to the development of youth in Canadian society.
Rick MacLeish
An integral part of the Philadelphia Flyers' dynasty of the mid-1970s, Cannington native Rick MacLeish scored 349 goals in his 14-year National Hockey League career. Recognized for his outstanding ability on the ice early on, Rick was called the top peewee player in Ontario by the Toronto Star in the early 1960s. A junior A career with the Peterborough Petes resulted in being drafted by the Boston Bruins in 1970. He made his NHL debut with Philadelphia in 1972 and played the next 10 seasons with the Flyers. The two-time Stanley Cup champion is a member of the Flyers Hall of Fame and is tied for the most career playoff goals scored by a Flyer (58). Rick continues to support Cannington minor sports with an annual charity golf tournament.
Marian Sweetnam
A record-setting head coach of the Lindsay Lightningbolts Swim Club for 18 year, Marian Sweetnam has been responsible for swimmers who have competed at the highest levels internationally, nationally and province-wide. As Lightningbolts head coach from 1984-2001, she had five national swimmers ranked in the top 40 in Canada and sent four athletes to the 1992 Olympic trials, including daughter Nancy (1990 Commonwealth gold medallist, 1992 and 1996 Olympian). Marian was the first female to be named Canadian swim coach of the year in 1990. Also a long-time director for Swim Ontario (Huronia Region), she served several years on the Lindsay Recreation Commission. She joins Nancy as the first mother-daughter inductees in the Lindsay & District Sports Hall of Fame.
Joseph Jenkins (1912 – 1999)
An avid sportsman, Joe Jenkins was a  pioneer whose legacy lives to this day in Little Britain and surrounding area. A multi-sport athlete as a young man, he also spearheaded the development of many Little Britain facilities, including the old arena in 1949 and the drive to install lights at the ball park in 1963 and artificial ice in the arena in 1964. A president of both minor and senior Little Britain hockey associations, he was a founding member of the junior D hockey executive in 1965 and was instrumental in starting the Little Britain intermediate club and Sports-A-Rama, a successful fundraising event for community sports. Active in many different community activities throughout his life, Joe and his wife  raised 10 children in Little Britain and made it possible for many generations of athletes to play their game.