Robert Taylor (1946 – 2002)
One of the most successful and accomplished athletes from Little Britain, Bob Taylor's involvement in sports spanned a lifetime. A product of the village's minor hockey system, he made the Lindsay junior C Muskies at age 16, then quickly moved up to Junior B (Dixie) and then Junior A with the St. Catharines Blackhawks. Following five years in Virginia with the Eastern Hockey League's Salem Rebels in the 1960s, Bob played senior hockey in Lindsay, Barrie and Belleville. Hockey was not his only game, as he excelled in the Little Britain baseball system and was an avid golfer. Bob coached the Lindsay Minor Midgets all-Ontario championship hockey team in 1979-80 and the Muskies in 1980-81. He was a long-time member of the Lindsay Golf Club and served many executive positions.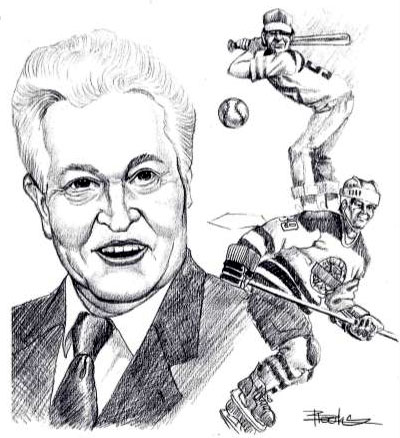 Vernon Drinkwalter (1926 – 1997)
Championships, trophies and awards are always nice, but there can be no greater tribute to a sports coach than the respect of his players over the years. Such is the case for Vern Drinkwalter, a longtime Lindsay resident who left his mark and his passion for baseball and hockey on generations of local youngsters and young adults. Honoured through the 1960s, '70s and '80s with many accolades and forms of recognition, Vern's baseball and hockey teams won their fair share of titles over the years, including the all-Ontario juvenile hockey title in 1977-78. His players pointed out that he always made the game fun, and made positive impressions upon them that lasted a lifetime. A man willing to sacrifice his own time in order for others to benefit from sports, and a coach well respected by all, Vern passed his love of sports on to many.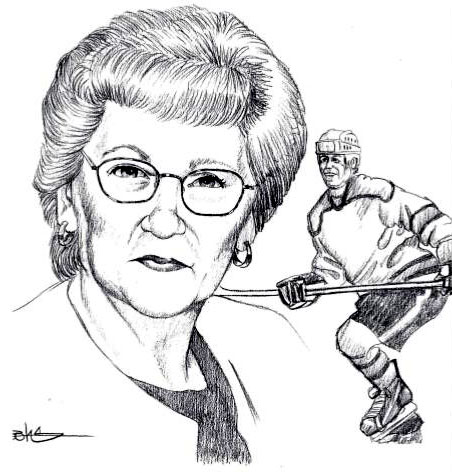 Sharon Griffin
For her hard work and dedication over a period of more than 30 years as a volunteer official of minor hockey and other sporting organizations, Sharon Griffin has received accolades and honours at many different levels. A longtime resident of the area, Sharon became the first female to serve on the Ontario Minor Hockey Association executive in 1987, and became OMHA vice-president 10 years later. She also served locally, with the Central Ontario Wolves executive and Fenelon Falls Minor Hockey association, as well as the Lindsay Five-Pin Bowling Association and minor softball organizations. Her dedication to sporting organizations stemmed from a desire to provide local youth with recreational opportunities in their own communities. A lifetime of volunteer work earned her the admiration and respect of all involved.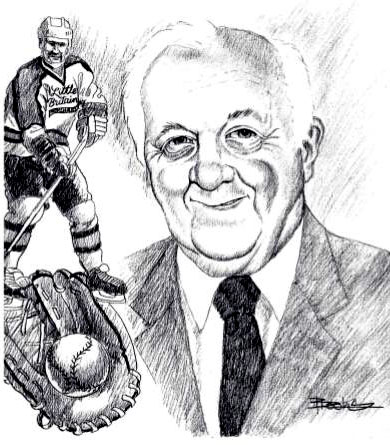 Art Field (b. 1934)
Art Field has spent a lifetime giving his time and energy in order to make recreational activities in the Little Britain area better. Respected by all as dedicated and hard working, the founder (1978) and longtime executive member of the Little Britain Merchants Junior C hockey club, Art volunteered countless hours so that others were able to enjoy sports in the community. For more than 45 years, he supported, managed, sponsored and coached in the Little Britain/Mariposa area. He played major roles in the development and operation of minor and junior hockey, and was a player and coach for recreational baseball and industrial hockey. His community spirit was also reflected in political and civic involvement at many different levels.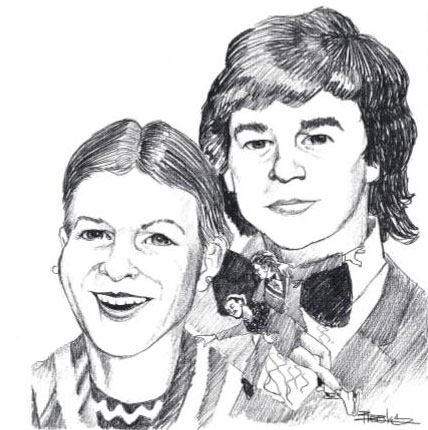 Amy (Martin) McDonald & David Martin
The most successful figure skaters and ice dancers to emerge from the Lindsay Figure Skating Club, this brother-and-sister team achieved considerable success at the provincial, national and international levels in the 1970s. The Martins brought recognition and honours to the Town of Lindsay and its skating program. A three-time provincial junior champion, Amy teamed with David to place second at the Canadian junior dance championships and sixth at the senior level in 1976. They repeated their senior success in 1977. After retiring from competitive skating, both Amy and David spent many years coaching young competitors in eastern Ontario. Their success, a product of long hours of hard work and discipline, has been passed on to countless others, and they have inspired and encouraged many Canadian skaters over four decades.
Little Britain Jets Intermediate C Hockey Team
One of the most talented and accomplished sports teams ever to emerge from the City of Kawartha Lakes, the Little Britain Jets were the only intermediate hockey team ever to win three consecutive Ontario championships. From 1967 to 1970, the team was truly representative of the area, featuring players from Little Britain, Bobcaygeon, Lindsay, Omemee, Oakwood and Fenelon Falls. Many players went on to distinguish themselves at other levels of competition, including Ontario Junior A and the American Hockey League. Players have continued to make contributions to their respective communities via coaching or managing hockey and baseball through the years. Through its glory years, the team brought excitement and pride to the Little Britain and surrounding area for one and all. Team members: Randy Reid, Wayne Milburn, Fred Larocque, Bob Growden, Alvin Drinkwalter, Ray McCabe, George Kemp, Ken Griffin, John Nicholls, Rick Purdy, Ron Jenkins, Ron Jewell, Don Kelly, Tom Thomson, Gord McMillan, Jim Herr, Roger Collins, Len Grills, Ted Hallett, Dave Nicholls, Alex Pearson, Murray Nugent, Ken Roberts, Vaughn Cunningham, Gary Marquis, Clare Jenkins, Joe Jenkins, Kelly Doyle, Bruce Fairman, Ed Starr.